Wednesday, April 27, 2005
Only 3 weeks away
Tuesday, April 26, 2005
This might be fake, but who cares?
Monday, April 25, 2005
All your Star Wars info can be found...
Friday, April 01, 2005
Thank you Holy Father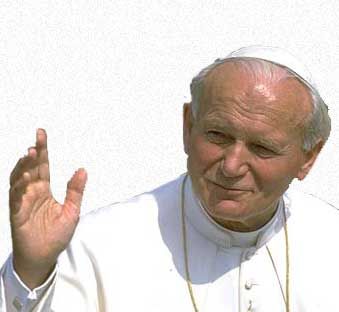 Sometime in the next day or so, or even tonight,
the Pope
will be gone. I wanted to recommend to each of you that sometime perhaps in the near future that you take a few minutes to read about one of the finest men who ever lived, Karol Wojtyla, known to the world as
Pope John Paul II
.
Whether you are Catholic, Christian, Jewish, Muslim, Buddhist, Sikh, Atheist, or Agnostic, or you just don't care at all about religion, it does not matter. The Pope is a man of both theological and secular brilliance, of pure decency, and has had a tremendous impact on our world since 1978. We will all be a bit poorer after his loss.
I think that many of you would be surprised how much agreement you would find with him, whether you are liberal or conservative. For example, here are some things about the Pope that you might not know:
- He is an unwavering, unapologetic
opponent of the death penalty
, and has spoken out for years about it.
- He was against the war in Iraq
- He fought both
publicly and behind the scenes to help free Eastern Europe
- He has been a staunch advocate for the poor and underprivileged
-
He is friends with U2's Bono
- He single-handely convinced Fidel Castro to
let Cubans celebrate Christmas again
.
- He is a staunch opponent of abortion
- He is against euthanasia
Perhaps you do not agree with all of his positions. I certainly don't, and I love an respect the man to no end. I saw him speak at Giants Stadium years ago, and I will never forget it. And, I will never forget when he came to visit Philadelphia in 1979 and my mother took me to see him. 2 million people lined up over a 2 1/2 mile stretch just to have a glimpse at him.
Like I said, take a few minutes to read about the man, no matter what you believe politically or religiously. I think you'll be surprised at how great a human being he is, and how many things you agree with him on.
May God Bless his soul.